---
---
The 2022 Global Partner Summit is a companion event to the 20th Annual Microsoft Office Specialist World Championship and Certiport's 9th Annual Adobe Certified Professional World Championship. In order to maximize the time and investment that Certiport Partners make in sponsoring the national student champions in these global competitions, Certiport provides four days of interactive sessions, program updates, and networking opportunities. After a two-year hiatus from live, in-person events, Certiport is excited to be holding this year's partner and competitions events at Disney's Grand Californian Hotel in Anaheim, California from July 24th to July 27th, 2022.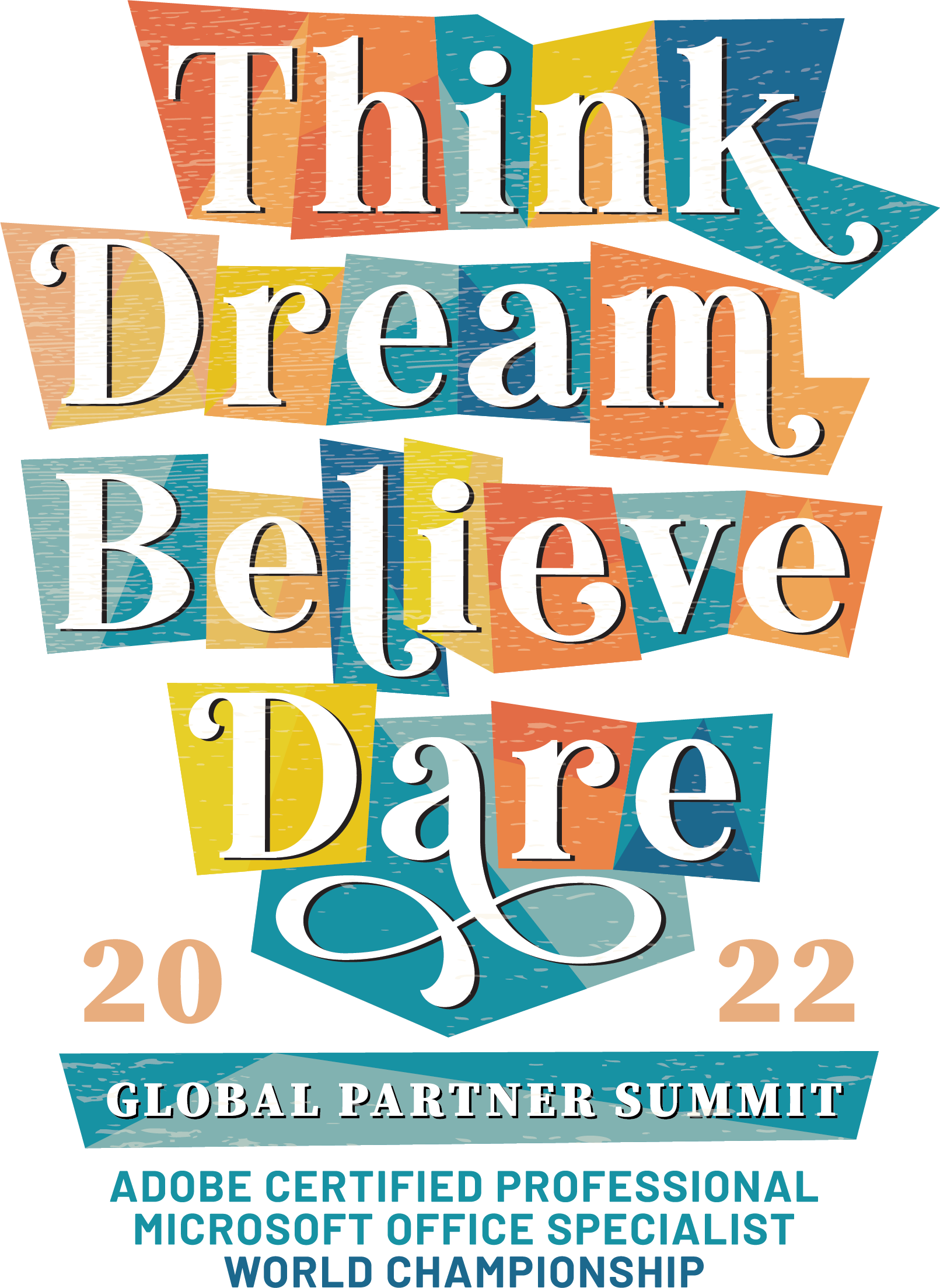 ---
---
---
The 2022 Global Partner Summit includes:
---

PRODUCT STRATEGY
Product roadmaps and strategic business plans

PARTNER RESOURCES
Strategic and tactical marketing plans, tools, and other partner resources

BEST PRACTICES
A forum to exchange ideas and best practices with other global partners

CLIENT RELATIONSHIPS
Promotion of relationships with top Certiport clients such as Adobe, Apple, Autodesk, IC3, Intuit, Microsoft, Unity, and more

PLANNING SESSIONS
Introduction of new partners to the Pearson VUE executive team and an opportunity for existing partners to conduct business planning sessions with Certiport's business leaders and program specialists

CROSS-SELLING OPPORTUNITIES
Information about cross-selling opportunities with Pearson VUE and Pearson Learning
---
---
---

Global Partner Summit Agenda
---
SUNDAY, 24 JULY, 2022
| | | |
| --- | --- | --- |
| 10:00 AM – 6:00 PM | Registration: GPS, MOS, and ACP World Championships | Sequoia South Foyer (West) |
| 7:00 PM – 9:00 PM | Student Party & Welcome Reception | Sequoia South Foyer/ Sequoia Ballroom |
---

World Championship Agenda
---
SUNDAY, 24 JULY, 2022
| | | |
| --- | --- | --- |
| 10:00 AM – 6:00 PM | Registration: GPS, MOS, and ACP World Championships | Sequoia South Foyer (West) |
| 10:00 AM – 6:00 PM | Keyboard Testing | Sorrel (MOS) / Wisteria (ACP) |
| 7:00 PM – 9:00 PM | Student Party & Welcome Reception | Sequoia South Foyer/ Sequoia Ballroom |
---
Pricing & Registration
---
---
GPS 2022 Registration and Pricing
In order to ensure a superior event with top-notch facilities, speakers, and activities, Certiport has established the following pricing structure for 2022:
General Conference and Competition Fee
Benefits and Discounts
Bronze Partners
1 partner employee free

15% off additional passes
Silver Partners
1 partner employee free

20% off additional passes
Gold Partners
2 partner employees free

25% off additional passes
Platinum Partners
3 partner employees free

30% off additional passes
The last day to register for GPS is Friday, 1 July 2022. Any cancellations after 8 July 2022 will result in a $150.00 (USD) cancellation fee. Additionally, registration for one person cannot be exchanged for another.
A discount code, specific to your organization, which allows the appropriate number of free registrants according to your partner status, has been sent in a personalized invitation email to one person from your organization. Individuals will be asked to enter the discount code on the payment page at the end of the registration process. When the maximum usage for your discount code has been reached, additional registrants will be charged the appropriate conference fee.
The process outlined above is important in order for your organization to qualify for complimentary passes or discounts. If you or someone in your organization has not received a personalized invitation with registration instructions by Friday, 3 June 2022, please send an email request to Emily.batten@pearson.com.
---
HOTEL RESERVATIONS
---
---
Disneyland Grand Californian Hotel

Experience a combination of elegance, technology, and whimsy at Disney's Grand Californian Hotel & Spa. Discover delightful details like the mural above the headboards that depicts a blossoming orange tree—with Chip 'n Dale mischievously playing in the branches. In select rooms, when you open the sleeper bed, you'll find artwork of woodland creatures from Bambi to bid you goodnight.

Examine the California-inspired artwork, textured-copper detailing and countertops incorporating pieces of green glass from wine bottles. All rooms are now powered with the latest technology and appointed with premium amenities—including 55-inch smart TVs, Keurig coffee makers and USB connections to charge your electronic devices.

Hotel Features

The Disney Grand Californian Hotel allows you to escape reality at a hotel that defines grandeur at every turn—from premium accommodations and Craftsman-style elegance to Disney's impeccable service and renowned attention to detail. Hotel Guests can enjoy impressive amenities and rich dining experiences as well as utilize the convenient proximity to Disneyland and Disney California Adventure Park.

Hotel Pricing

Certiport has negotiated a specially priced hotel rate of $267.00 (USD) for a standard hotel room. This specially priced room rate will be available only until 8 July 2022. This is a special price on the room rate of this premium location hotel. There is no added resort fee at this hotel. Complimentary wireless Internet access is available in Guest rooms.

Deadline

You are responsible for booking your own hotel accommodations.

The specially priced hotel reservation deadline is Friday, 8 July 2022. Please note that this time of year is the high season for tourists and it is extremely likely that the hotel will quickly sell out.
TRAVEL ARRANGEMENTS
---
---
You are responsible for arranging your own travel to/from the airport to the hotel.
---
What to expect
---
Learn what you can expect when you arrive, including pre-travel tips. Be sure to check back here as information is updated often.
---
---
Transportation
---
Learn about the wide variety of transportation options to Disneyland resort, including helpful travel information about airports, public transportation, and driving.
---
---
CONTACT
---
---
We look forward to seeing you at the Disney Grand Californian for this year's Certiport® Global Partner Summit, the MOS World Championship, and Certiport's ACP World Championship.
If you have questions about the Certiport Global Partner Summit, contact your Certiport representative. Questions relating to registration, the hotel or schedule can be e-mailed to the Event Team at globalpartnersummit@pearson.com.